The presence of a garden in the house enlivens the atmosphere and gives a soothing feeling to the residents. A garden is most helpful to breathe freely and cleanly. It also improves your mental health and reduces stress. Those who are building a garden should know some important facts. In this article, you will know in detail about the best tips to start building a garden.
Building a garden is a great way to meet your family's safe food needs and engage yourself in nature. Factors like watering, fertilizing, pruning, mulch, etc. are involved with Gardening. A Garden cart is mainly used for mulching. So you can know a bit about 5 Best 2 Wheel Garden Cart Reviews In 2022 because the tool provides enough benefits for gardeners.
Best Tips To Start Building A Garden: You Must Know
There is never a rush to building a garden of your choice. There are numerous factors associated with this. At this stage, you will know about the most important and general tips for building a garden . No matter what kind of garden you do, these tips will be helpful.
1. Have a Proper Plan
It is important to have a complete plan for gardening. Research everything and create a written plan that records everything from preparation to garden care. A proper plan will undoubtedly help in creating the garden of your choice. But do not forget to do lots of research.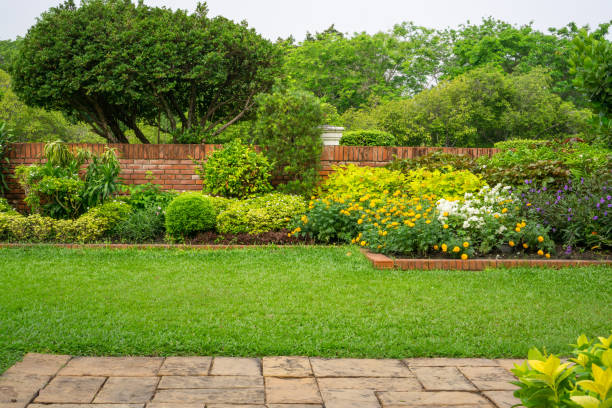 2. Choose the Right Place
Choosing the right place for building a garden is an important decision. Too much shade or too much sun can make gardening difficult. But choose a relatively flat location. Leveling soil in uneven areas is quite difficult and can be full of errors. 
3. Clean up the Selected Area
Clean the area you have selected for gardening very well. Gardening in weedy areas can be quite inconvenient. Remove necessary tree or grass cover as soon as possible and allow the soil to rest. In this case, you can use a spade. But the cut weeds can be used as fertilizer later.
4. Prepare the Soil Well
The growth and vigor of your garden plants will depend on how well you prepare the soil. Keep the soil as loose as possible. Too wet, alkaline, and infertile soil will not suit the plant. For this, you can make the soil suitable for cultivation by using the necessary tools.
5. Pick the Right Plants
Choose the right plants depending on the type of garden you want to start. It is also important to know which plants are compatible with the climate of your area, otherwise, your investment may fail. To get a better idea in this regard, you can browse the internet and gather information.
6. Irrigate Water at Appropriate Times
Do not keep plants without water for too long. It needs plenty of water, especially during the dry season when its soil dries out quickly. But give less water during the rainy season. Water slowly and allow the soil to soak completely. Schedule watering according to weather conditions. If you are someone who has to travel frequently, consider looking for a gardener who can help you with taking care of your plants. 
7. Keep the Garden Close to Home
Plan to make the garden very close to the house so that you can look after it most of the time. You can collect your useful vegetables from the vegetable garden in minutes.
8. Weed Regularly
Weeds clog plant roots, stunting plant growth. Do not forget to clean the weeds regularly. If there is a lot of twisted grass, use a weeder. Also pull up unknown trees. Weed every plant in the garden and give it a rest.
9. Use Big Containers
For the plants you want to plant in the container, you must use a large container. In small containers, the roots of the plant become constricted, which prevents the plant from producing fruits and flowers. For this, choose as large a container as possible. In this case, you can use any large discarded container.
10. Use Basic Gardening Tools
Don't forget to stock up on common gardening tools. Because they perfect your garden creation and care. Also gives progress to your work. This includes a gardening cart, gloves, loppers, garden fork, hand trowel, spade, hoe, watering can and so much more. These things will make managing your garden easier.
11. Apply Organic Fertilizer
Always use organic fertilizers on plants. Commercial fertilizers are not beneficial for all plants. Many people make their own compost instead of commercial fertilizers to give proper nutrition to the plants when building a garden. But no matter how compost is made, it has a very bad smell. Shred the paper and mix it with the compost. 
12. Let the Plants Grow Naturally
The plant does not require extra care to grow. After planting, ensure proper access for the tree and allow it to grow naturally. If grown normally it will be able to produce flowers, fruits, or vegetables at the right time. Also, avoid entering the garden frequently.
13. Get Ideas from Others
Don't despair if you can't gather enough ideas on your own while building a garden. Surely you or someone you know has a garden around your house. Get ideas from them. Also, know what they have planned for the family. The opinions of experienced people will probably help you avoid possible mistakes.
14. Add Colorful Plants
Colorful fruits, flowers, or vegetable plants multiply the beauty of the garden. These plants not only bring peace to your mind but also make the garden admirable to others. Also, bring a variety of plants. Vegetables or fruits that meet your family's daily needs must be on the list when you are building a garden.
15. Make a Routine to Work in the Garden
Develop a regular routine of gardening. This will include when to water it, when to prune, how often to clean, when to enter the garden, etc. A routine reminds you of regular garden maintenance. There is less chance of forgetting important things.
16. Do not Plant too Close Together
Maintain a safe distance when planting trees. Maintain the same distance between each plant. It makes weeding easier and plants grow faster. Moreover, you can take care of each plant separately and identify problems.
17. Keep up the Primary Tasks
Continue the initial tasks until the garden is perfect. If you are new to building a garden, these will give you experience in gardening and maintenance. Also, continue regular watering, watering, fertilizing, and pruning.
18. Keep a Particular Walking Way in the Garden
While building a garden, be sure to plan for some paths to walk inside. A garden without a path can be difficult to maintain. Also, if you walk randomly through the trees, the trees may be damaged.
19. Separate Indoor and Outdoor Plants
There are some differences between indoor and outdoor garden plants. So first decide what kind of garden you want. Of course, indoor and outdoor should be thought of differently. Not all indoor plants may be suitable for outdoor use.
20. Use Unused Household Items.
If you don't have enough space or yard at home for building a garden outside, you can make a small garden using unused containers, plastic bottles, or thick pants and place them on your window sill or balcony. For the longest time, I kept my plants in my balcony and windows because I lived in an apartment. 
21. Choose a Simple Garden Design
By choosing the right design for the garden, you can create an amazing garden even in a small space. Plan a design that will require less space.
22. Keep Water Sources Nearby
Place the sources from which you will water the garden near the garden. If possible, install a water tap near the garden. Many people are too lazy to water the plants due to the lack of water at hand. Also, it is a good idea to garden near a water source.
To Sum Up
So, you now know the best tips to start building a garden. These are some very simple points to create your dream garden. Anyone can easily create a beautiful garden by following these. In short, there is no alternative to the mentioned tips and tricks to make your garden investment worthy.