When it comes to the bathroom, most of our effort is towards keeping it clean and neat – we don't put much work into decorating it. In modern homes, bathrooms often feature white or grey tiles, minimalist walls, and a boxy mirror above the sink.
Want to break up the plain look and make your bathroom a cosy space like the rest of your home? The great news is you don't need to undertake a complete renovation in order to achieve a brand-new look. If you're interested in making your bathroom feel like a spa without investing a lot, here are some ideas to help take it to the next level.
Find the Right Mirror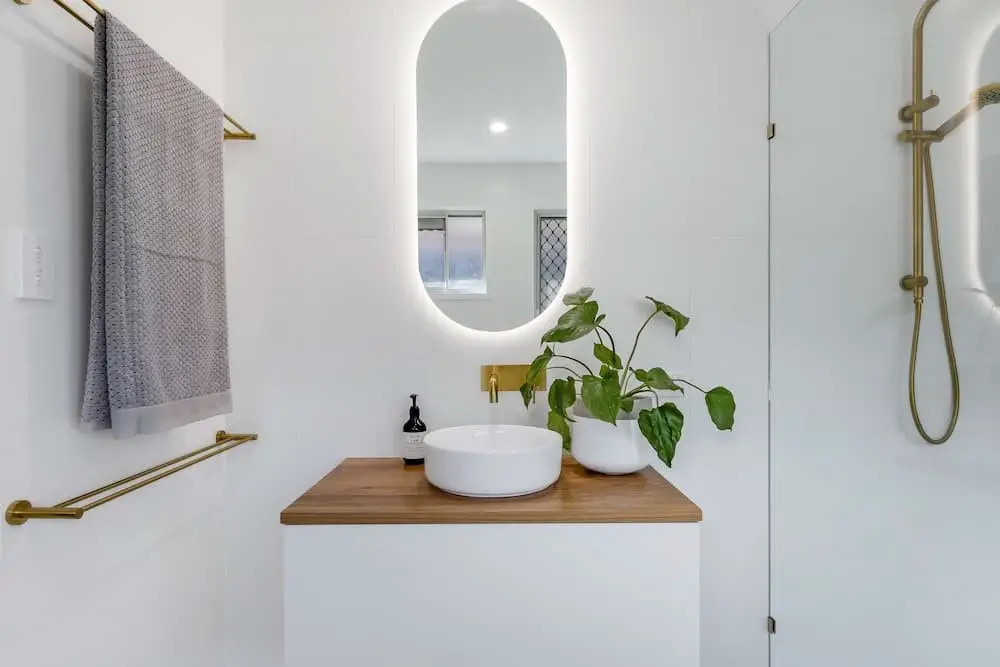 When carefully positioned, mirrors can enlarge any area. Because of this, no matter how small your bathroom is, you can always use mirrors to make it appear larger without knocking down any walls. You can use bigger models to create the illusion of a larger room, or smaller mirrors as bathroom décor to reflect light and brighten the space.
And if you really want to create a spa-like atmosphere in your bathroom, you can get an LED mirror. Illuminated mirrors, which come in various styles like framed, frameless, back-lit, and beveled varieties, add a level of elegance that normal mirrors do not.
Standard designs are nothing more than fixed pieces of solid glass. On the other hand, LED bathroom mirrors are frequently made of a premium, reflecting material that extends from the wall, giving them a more glitzy and expensive appearance.
They also provide a significantly brighter and more vivid reflection. Traditional mirrors rely on your ceiling lights for lighting, making your reflection appear dull and uninteresting. LED bathroom mirrors offer built-in illumination that enhances the clarity and vibrancy of your reflection.
You can readily adjust the illumination level by pressing a button, and the brightness can be switched from low to high. Furthermore, you can find an LED mirror in a number of illumination colour options, ranging from the soft, warm glow of traditional incandescent lighting to the dazzling, white light of fluorescent lighting.
Installing an LED bathroom mirror is as simple as installing a standard one. The only difference is that a basic, quick-connect kit is required. Just connect the mirror to a wall socket, and you're good to go. You can operate most LED bathroom mirrors with a soft-touch button in the front. The button is set to switch on or off the mirror light, as well as modify the colour and intensity of the illumination.
Add a Pop of Colour
There is nothing wrong with having a bathroom that is all white. White, after all, is the most neutral colour for such a room and keeps the area well-lit. But if you believe your bathroom needs a new coat of paint, think about painting the door or even the cabinets in a different colour.
Use a splash of colour, such as red or green, to add immediate charm and character to your bathroom and make the most of this opportunity to infuse individuality into the space. This little burst of energy will continue to surprise you every time. It's also a great conversation starter when people come to visit.
Don't enjoy painting but still want some vibrance in the bathroom? Then add a colourful rug or some soft Egyptian cotton towels in bold colours since these statement pieces not only bring warmth and colour, but also make everything comfy and attractive to the eye.
Include Gold and Metallic Embellishments
The décor staple of the 1970s and 1980s, brass, is making a comeback. It, or any other gold-toned metal, will give warmth and beauty to your bathroom with only a few touches.
But choosing the right colour is crucial; otherwise, a space might appear garish rather than magnificent. Now, brushed gold fixtures in sleek designs appear warmer, more contemporary, and more natural than the gold of the past, which had a more greenish background.
Do you want to create the look without starting over and throwing everything out? Think about using metallic accent pieces like soap dishes, wastebaskets, and other vanity accessories. They won't swarm your space and they'll still get the same impression.
Update Your Light Fixtures
Even the most expensive décor can look cluttered and downright awful under dim illumination. It is essential to have sufficient lighting in bathrooms because they typically lack natural light due to a lack of suitable windows, especially if the space is small.
If the lighting in your bathroom is too dim and you don't have the money or the space to install new fixtures, you might want to think about switching to LED bulbs. They are widely accessible and typically brighter than common energy-saving bulbs. Additionally, these lights will enable you to reduce your energy costs.
However, if you have a somewhat larger bathroom, consider changing your light fixtures. For a more modern aesthetic, put some pendant lights in your bathroom. To intensify light while creating the appearance of a larger room, most interior designers recommend positioning a light source right in front of a mirror.
Hang Art
If the walls in your bathroom are plain and uninteresting, you might want to consider hanging some abstract art to liven up the room. The best part is that you won't have to spend a lot of money on such artwork because you can frame anything you download for free online or use old paintings for. Just watch that it doesn't appear to be too crowded.
Add Plants for a Spa Feel
A clever and inexpensive method to give your bathroom a spa-like atmosphere is to add plants. They not only brighten up otherwise dull décor and are aesthetically pleasing, but they are also good for the environment. I have quite a few low maintenance plants in my bathroom. They add a fine green texture to the bathroom and keep the space cooler. 
Almost any houseplant would look lovely in your bathroom, but most people prefer to display Devil's Ivy (also known as the money plant) in glass jars. Because they don't need a lot of water or sunlight to survive, succulents are a great addition.
Get Some Shelving
You can use shelving both for storage and aesthetics. Look for over-the-toilet shelves, independent shelf systems, or wall-hanging shelves to store and display towels, coloured bottles, and other items. Because bath bombs come in so many unique colours and shapes, a basket full of lovely bath bombs on a shelf, for example, is a great way to liven up your bathroom. You can also add some texture to your bathroom by incorporating woven baskets, wicker storage containers, or a textured rug. It is also advisable to invest in some luxurious bath accessories, such as a wooden bath tray, a bamboo bath caddy, or a bath pillow to make your bath time more enjoyable.
Conclusion
Making your restroom cozy can help create a warm and inviting atmosphere. A cozy bathroom can also make a positive impression on guests who visit your home. It provides a welcoming and comfortable environment, making them feel at ease and enhancing their overall experience. Ultimately, creating a cozy bathroom is about creating a space that promotes relaxation, comfort, and well-being. It's an investment in your self-care and can contribute to a more enjoyable and fulfilling daily routine. With these tips, you can transform your bathroom into a cozy retreat where you can unwind and rejuvenate.