King and California King are designed for those who prefer ample space when it comes to having a comfortable sleep. A king-size mattress is wider but shorter whereas a Cal king mattress is narrower as well as longer.
Here you will find the difference between king and Cal king size mattress. You will get the difference in mattress size, mattress surface area, and sleeper when you are looking for the king vs. California king.
What Is the Difference Between King and Cal King
For genuinely having a an absolutely amazing sleep and feel into a bliss, you need to understand what the difference between a king and Cal king literally. Here are some basic differences between king and Cal king.
Mattress size
The mattress size makes a noticeable difference between these two. The king mattress dimensions are 76" wide and 80" long, whereas the cal king size is 72" X 84" in dimension. Do you have any idea how much bigger is a California king than a king?
The king mattress has four inches less than the California king in width, nevertheless, the California king also has 4 inches more in length.
Mattress Surface Area
As you know those two mattresses come in two different sizes, definitely, it can be assumed that the surface area is also different. When you compare those two, you will find the king mattress is 6080 sq. in and the California king is 6048 sq. in.
Sleeper
An adjustable king mattress is suitable for couples and also the solo sleeper finds it suitable for sprawling. On the other hand, the California king mattress comes in a narrow design so, that up to 6 feet tall people find comfortable sleeping there.
How big is a California King?
The California king bed comes in a narrow size design where the dimension is 72 inches by 84 inches. Moreover, you will get 6,048 square inches as a mattress surface area when buying a new one. However, when a standard king bed offers a perfect square, the Cal king is a long and narrow rectangle.
Due to the narrow design, sleeping with partners is a little bit challenging in this mattress. But, if you are similar to an NBA player in size, you can buy this one easily to ensure comfortable sleeping.
What is the point of a California king bed?
Back in the early 1960s, a furniture manufacturer from Los Angeles began making oversized beds for the celebrity. This bed came in 72 inches by 84 inches in dimension and was considered the largest bed in the market at that time.
The manufacturer dubbed it a California king-sized bed and started mass production after a few years. But it was named after its popularity surged in California and on the West Coast. Also, the California king bed is sometimes called a Western King.
What is a king mattress?
Among the ten mattress sizes, the king-size mattress has 76 inches wide and 80 inches long dimensions. This space is suitable and enough for the couple and the solo sleeper who loves crawling. Notably, you can use a king-size mattress instead of a twin bed in the guest room; hope that it will be a flexible arrangement for the bed.
You already know the king mattress offers a surface area of 6080 sq. in. So, to place it perfectly or move it easily into a room, you need to find the room's dimensions. Here you need to consider the measurement of the door, corridors, and stairwell.
Which Should I Buy?
Now, let's solve a big question like which you choose from cal king vs. king. Here are some factors that lead you to the perfect choice so, take those into account prior to buying.
Measure the House and Bedroom's dimensions: To avoid the carry-related hassle, people usually order mattresses online. During ordering online, you need to find the measurement of your bedroom's dimensions. Don't forget to measure the stairs or hallways, doors because your mattress will come in this path.
Thankfully, the manufacturer displays the mattress size so; from here you can easily get an idea. Moreover, try to keep 2 feet of space on the mattress's three sides, it will provide enough space to walk.
Costs: Although the popularity of the California King Size mattress has grown, you may find it difficult to find its accessories. For instance, bed frames, box springs, mattress protectors, and sheets of the California king are not only rare but also expensive.
In that case, a king-size mattress may be the option because you don't need to spend a lot of time searching for accessories.
Height: As you already know those two bed's dimensions and here the person's height matters significantly. If you are more than 6 feet tall, you have better choose the California King.
Here the length will allow the sleeper to perfectly place the full body. If you are not tall enough, the additional length of the California King isn't worth it for you. But, the person who is taller than average will find it more comfortable with its length.
Partner: When it comes to sleeping with a partner, a king-size mattress is considered the better option. Here the mattress's wide feature lets the two persons sleep comfortably. The California King's narrow design is also good when you tend to sleep closely or touch your partner.
Moreover, some people require space during sleeping, for them, the standard king which offers a wide space is the best option.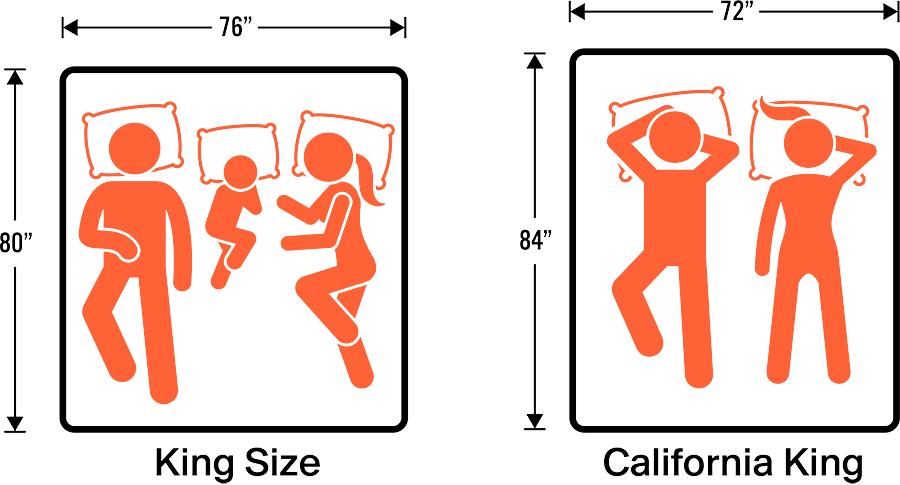 Size between king and Cal king
When it comes to finding the difference between king and Cal king mattress, size is the most fundamental difference.
Here lies a noticeable size difference between King and Cal King. The Cal king width is 72 inches or 183 cm, and the length is 84 inches or 213 cm. This site is considered the longest available bed in the mattress market.
On the other hand, the king bed comes in 76 inches or 193 cm wide and 80 inches or 213 cm long. Here lies 4 inches difference and the difference makes the king-size mattress wider than the California king mattress.
| | | | |
| --- | --- | --- | --- |
| Bed Size | Mattress Dimensions (Inches) | Mattress Dimensions (Centimeters) | Mattress Surface Area |
| King Beds | 76 in x 80 in | 193 cm x 203 cm | 6080 sq. in |
| California KingBeds | 72 in x 84 in | 183 cm x 213 cm | 6048 sq. in |
Mattress Dimension and Size Chart
Based on the people's different sizes, you will find ten different mattress sizes in the market. Once you successfully place the right size mattress on your bed, it will help to bring a sound sleep. Here we enlist those ten mattress sizes and hope that it will help you get the right difference between king and Cal king and pick the right mattress.
| | | |
| --- | --- | --- |
| Available Mattress Size | Mattress Dimension (Inches) | Mattress Dimension (CM) |
| Crib | 27.25″ X 51″ | 69.2 X 129.5cm |
| Small Single | 30″ X 75″ | 76.2 X 190.5cm |
| Twin | 38″ X 75″ | 96.5 X 188.0cm |
| Twin XL | 38″ X 80″ | 96.5 X 203.5cm |
| Full | 54″ X 75″ | 134.5 X 190.5cm |
| Full XL | 54″ X 80″ | 137 X 203.5cm |
| Queen | 60″ X 80″ | 152 X 203.5cm |
| Olympic Queen | 66″ X 80″ | 167 X 203.5cm |
| King | 76″ X 80″ | 193 X 203.5cm |
| California King | 72″ X 84″ | 183 X 213.5cm |
Which Size is Best for You?
In order to know the difference between king and Cal king you need to know yourself first, that which size suits you best. Interestingly, an average person tends to move more than 40 times at night with a dozen full body turns. So, if you choose a small mattress for two persons, both of you may roll off onto the floor due to space shortage. That's why mattress size dimensions matter significantly to sleepers.
In the following, we brief on various available mattress size measurements.
Twin Size Mattresses
Twin Size mattress comes in 39 inches wide by 75 inches long and is better for short people, kids or college dorms, or New York City apartments. Parents usually place this type of bed in their kid's room and it also offers a suitable place to lie for mom or dad for the story.
Full-Size Mattresses
A full mattress is 75 inches long which is similar to a twin-size mattress but the width is 54 inches. It is not suitable for most of the couple's sleepers because it only leaves 27 inches of personal space per sleeper. However, if you need more space than a twin mattress, you may choose a full-size mattress.
Queen Size Mattresses
Queen-size mattresses are 60 inches wide and 80 inches long (152 X 203.5cm) which is more spacious than a full mattress. You can easily place this queen-size mattress in your master bedroom and the couple feels comfortable if they don't mind snuggling.
King Size Mattresses
When you like to sleep without facing any hassle like disturbing your partner, a king-size mattress will be your perfect choice. Moreover, you can allow a kid or a pet beside you because it is wider than others like 76″ and the length is 80″ inches.
Cal King Mattresses
Some people are exceptionally longer than the average person. For those the California king mattress offers an extra 4 inches longer than the king size but shaves off 4 inches in width. The longer person (even the 7-foot-tall person) can sleep straight herein.
Final Thoughts
While choosing the correct the form of mattress, one should know the basic difference between king and Cal king along with their body and sleep structure. We usually fall into a dilemma while choosing the perfect mattress if we are unaware of the difference between king and Cal king. Likewise, though the mattress has ten different size variations, it becomes tough to choose. Here we discuss what is the basic difference between a king and a Cal king. Hopefully, it will lead you to the perfect choice of these two and to celebrate an absolutely amazing night sleep.
1. Which one is better Cal King or King?
When you look at the dimensions of King vs. California King, you will find the king mattress is wider than the California mattress by 4 inches. Nevertheless, the California mattress is 4 inches longer than the king mattress.
So, if you want to sleep with other family members, you can buy the king mattress. But if you are taller than the average, you have better choose a California mattress.
2. Are California king sheets hard to find?
While you can easily find the accessories of a king-sized mattress but it is hard to find sheets and bedding for the California king.
3. Are King and Cal King the same?
No, here lies a big noticeable difference between King and California King. For instance, the king mattress size is 76″ X 80″ whereas the California king measurements are 72″ X 84″.