Introduction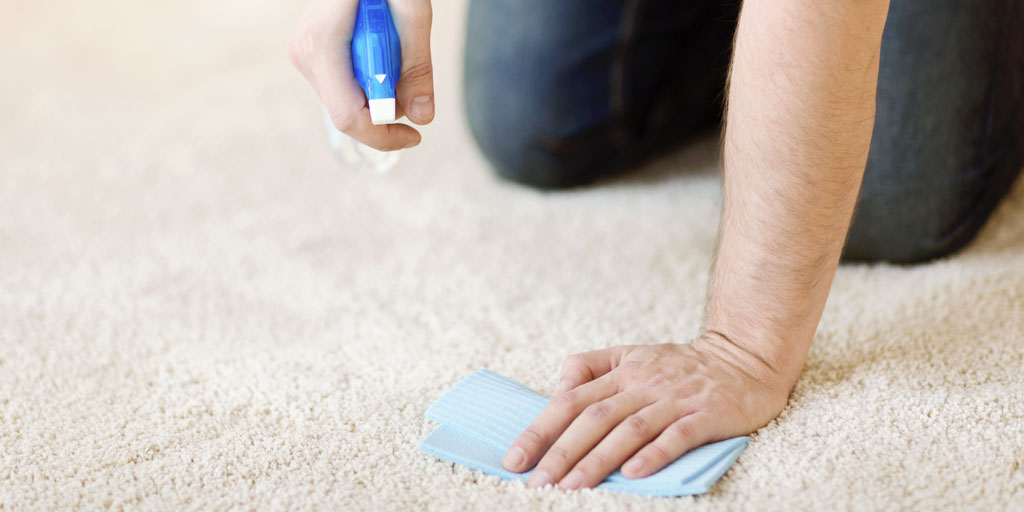 Carpets have always been a favored flooring option in countless homes. They're cherished for their comfort and how they enhance the overall aesthetics of a room. However, as time goes by, they tend to accumulate dirt, stubborn stains, and unpleasant odors. To preserve both their beauty and cleanliness, regular cleaning becomes a necessity.
While there is a wide array of commercial carpet cleaning products on the market, do-it-yourself (DIY) carpet cleaning solutions offer a wallet-friendly and eco-friendly alternative. In this article, we'll explore the top five homemade carpet cleaning remedies that can help you maintain your carpets in a fresh and pristine condition.
1. Baking Soda and Vinegar: A Dynamic Duo of Carpet Cleaning Solutions
Benefits

Baking soda, or sodium bicarbonate, is a versatile household item that's known for its fantastic cleaning abilities. It's a staple in many homes because it can effectively tackle various cleaning tasks. Thanks to its fine, slightly gritty texture, it's excellent at gently lifting dirt and grime from carpet fibers.
Now, let's talk about white vinegar. This mild acid is not only a natural disinfectant but also a handy stain remover. When you combine baking soda and white vinegar, you get a potent cleaning duo that can work wonders on your carpets.
Usage Instructions
Begin by thoroughly vacuuming the carpet to remove any loose dirt or debris.
Spread a liberal amount of baking soda evenly over the carpet. Pay careful attention to high-traffic areas or places with apparent stains.
In a spray bottle, mix equal parts water and white vinegar. Add a few drops of essential oil, such as lavender or tea tree oil, for a pleasant scent.
Spray the baking soda-covered carpet with the vinegar-water mixture. A fizzing reaction will occur, showing the efficacy of the solution.
Allow the solution to settle for about 15 minutes. During this time, the baking soda will absorb odors and help break down grime, while the vinegar will remove stains and disinfect.
After the waiting period, gently scrub the carpet with a gentle brush or sponge. To avoid injuring the carpet fibers, avoid being overly aggressive.
Finally, rinse the treated area with clean water and blot it dry with a clean cloth or paper towel.
Precautions
Make sure that the carpet does not become overly saturated with water for an extended period of time, since this might encourage the formation of mold
Always run a patch test on a small, inconspicuous section of the carpet to check for colorfastness and compatibility with your specific carpet type. This will ensure that the test is done correctly.
2. Hydrogen Peroxide and Dish Soap: Stain-Busting Power of Carpet Cleaning Solutions
Benefits
The use of hydrogen peroxide as a stain remover and disinfectant is quite effective. It is an effective agent for removing difficult stains from carpets when mixed with dish soap to form a formidable combination. This remedy works especially well on stains that are difficult to remove, such as those caused by coffee, wine, or urine from pets.
Usage Instructions
Use a clean cloth or paper towels to blot up any excess liquid or debris that is located in the region that was stained.
A spray bottle should be used to combine water and hydrogen peroxide in an identical ratio.
The mixture of hydrogen peroxide and water should then have a few drops of gentle dish soap added to it.
Shake the spray container on the lowest setting to blend the chemicals.
Applying the solution in a uniform layer over the stained area and making sure it is thoroughly soaked is important.
Give the solution some time to rest, around 10 to 15 minutes at the very least. While the stain is allowed to "dwell," the hydrogen peroxide can begin to break down the stain, and the dish soap can begin to work to remove it.
After the prescribed amount of time has passed, wipe the treated area with a fresh towel or some paper towels until both the stain and the extra moisture are absorbed.
Precautions
Since hydrogen peroxide has the potential to bleach some carpets, it is vital to conduct a patch test in an inconspicuous location before applying it to a noticeable stain.
Make sure that the area that was treated is fully cleaned and dried in order to prevent any potential damage to the carpet fibers or residual residue.
3. Cornstarch and Vinegar: Grease Be Gone!
Benefits
The removal of grease stains, which are frequently brought on by accidents during cooking or the handling of food, can be particularly tough. Cornflour, which is a good grease absorber, combined with vinegar, which has the ability to remove stains, makes for a strong combination of carpet cleaning solutions in the fight against these stains.
Usage Instructions
To begin, use a spoon or a butter knife to scrape away any solid or semi-solid debris from the grease mark. Take care not to work the grease deeper into the carpet fibers as you move the object.
Cornflour should be applied in a generous amount all over the grease stain to absorb it. Check to see that the affected region is entirely covered by it.
Cornflour must be allowed to sit undisturbed for around 15 to 30 minutes. During this period, it will work to soak up the grease that has been released from the carpet fibers.
Utilize a hoover to remove the cornflour when it has had sufficient time to perform its transformative properties.
Now is the moment to clean up any residue that may still be present. In a spray bottle, combine water and white vinegar in a ratio of equal parts.
Spray the vinegar solution in a light coat over the area that had previously been oiled.
Apply gentle pressure with a clean cloth or paper towel to the affected area and continue to do so until the stain is entirely gone.
Precautions
If the cornflour is allowed to remain in the carpet, it will function as a magnet for dirt and should therefore be removed with a hoover cleaner.
Before applying the vinegar solution to the stain, you should always do a colorfastness test on an inconspicuous part of the carpet to ensure that it is safe to use.
4. Salt and Club Soda: A Quick Fix for Fresh Spills
Benefits
When dealing with fresh spills such as red wine, coffee, or juice, a solution consisting of salt and club soda that is both quick and mild is ideal. This method of using carpet cleaning solutions is great for quickly removing stains without having to resort to using harsh chemicals, and it works really well.
Usage Instructions
Use a clean cloth or paper towels to immediately blot up as much of the liquid that has been spilled as feasible as soon as possible after the spill has occurred. The objective here is to extract as much of the liquid as possible from the carpet before it is able to travel deeply into the carpet fibers.
When you have removed as much of the liquid as you can, proceed to apply a generous amount of table salt to the fresh stain. The salt will aid in the absorption of any residual liquid.
Once the salt has been applied, pour club soda immediately onto the area that has been salted. Fizzing is something you'll notice, and it's a sign that the solution is actively working to remove the stain.
Scrub the area carefully with a sponge or cloth, making sure to work in a circular motion so as not to spread the stain further.
Repeat the process of blotting the area with a clean cloth or some paper towels until all of the moisture and stain has been removed by these carpet cleaning solutions
Precautions
This procedure works best for recent accidents, but it may not be as successful for older messes or stains that are particularly resistant.
When dealing with fresh spills, you should always respond fast to prevent the substance from setting, which will make it much more difficult to clean up.
5. Essential Oils and Water: Fragrant Freshening
Benefits
Although removing stains is not the major function of this solution, it is an ideal choice for revitalising your carpets and leaving them smell delightfully clean after doing so. Because essential oils come in such a wide variety of calming and energizing aromas, including citrus, lavender, and other floral and herbaceous notes, they are frequently used in aromatherapy and to revive stale carpets.
Usage Instructions
To make an essential oil spray, fill a spray bottle with water and leave enough headspace at the top to add a few drops of essential oil.
To the water, add a few drops of the essential oil that you like most (the amount varies from person to person but is normally between 5 and 10 drops).
Put the lid back on the spray container, then give it a gentle shake to combine the water and the essential oil.
Spray the scented water lightly all over the carpet in a uniform layer. It is not necessary to thoroughly soak the carpet; rather, only a gentle misting will do.
Your home will smell clean and inviting after the carpet has dried since it will give off the enticing scent of the essential oil, which will be released as the carpet dries.
Precautions
In order to prevent skin or mucous membrane irritation, essential oils should be diluted with water before usage. To guarantee safety, use the prescribed dilution ratios.
To avoid dangerous additives or impurities, use pure, high-quality essential oils from renowned companies.
To minimize bad reactions, be aware of potential allergies and sensitivities to certain oils and conduct a patch test before widespread use.
Conclusion
Finally, with these simple yet efficient homemade carpet cleaning solutions, you can keep your carpets clean and fresh. You have a variety of options at your disposal, whether you prefer the power of baking soda and vinegar, the stain-removing abilities of hydrogen peroxide and dish soap, the refreshing qualities of cornflour and vinegar, the abrasive action of salt and club soda, or the aromatic charm of essential oils and borax powder. Natural options can help your carpets look and smell their best while also encouraging a healthier environment in your home or company. Don't be afraid to experiment with these homemade carpet cleaning treatments and reap the rewards of clean, fresh, and gorgeous carpets.
1. What are the benefits of using homemade carpet cleaning solutions?
Homemade solutions are often more cost-effective and environmentally friendly than commercial cleaners.
2. Are homemade carpet cleaning solutions safe for all types of carpets?
Homemade solutions are generally safe for most carpets